What are the building blocks of composition?
How do you use these concepts and start consistently creating compelling artwork?
This 10 week intensive course covers the elements of art within the framework of the principles. For example, when talking about line, we will also touch on variety, value, scale, etc. Beyond the concepts and skills essential to good design practice, this course will open a window towards self-expression and awareness.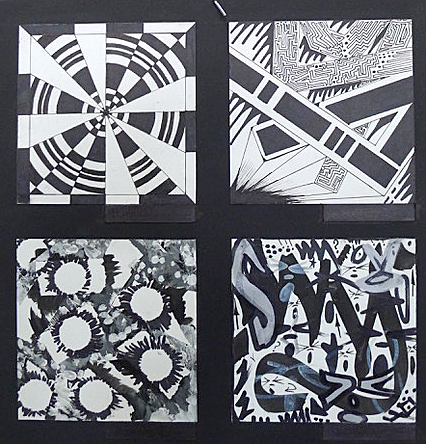 In Conquering Composition you will master these concepts and have powerful tools to draw upon in the production of your work.
Course Features:
10 live 2-hour online instructional Zoom meetings
Replays of live classes
6 months of access, after the course ends, to the recordings of the live sessions and course content
Limited to 20 participants with an option to add personal coaching
In class prompts and exercises
Assignments to apply concepts to your own work
Contemporary and historical examples to illustrate the concepts.
Susan and Lisa weave their diverse expertise into art historical presentations illustrating how artists from various cultural and artistic traditions incorporate these elements and concepts in their work.

Exercises challenge you to explore the concepts and how they relate to each other. You will be able to apply these elements in a deeper more meaningful way in your own compositions for the class. Achieve a deeper understanding by exploring these concepts in your sketchbook that becomes your studio reference guide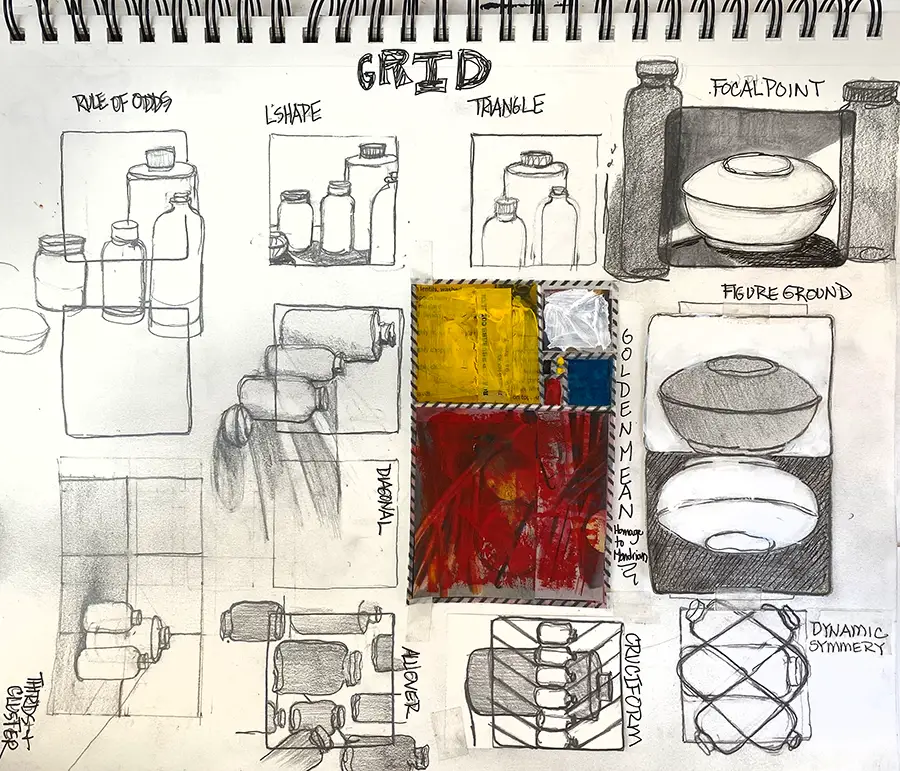 Expand your visual lexicon. Speak confidently about artwork--yours and other artists. Terms come to life in class lectures.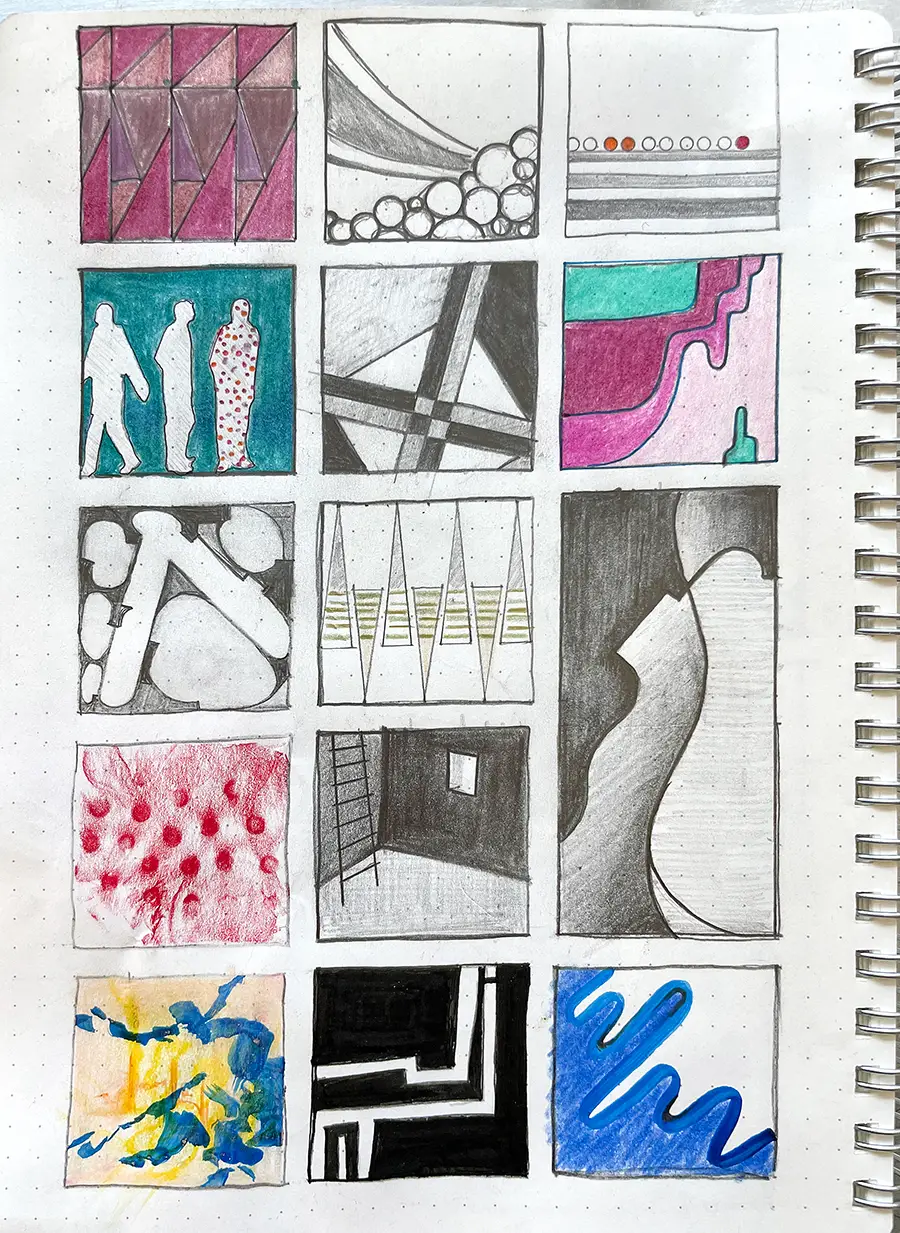 Learn the language of critique
These design fundamentals are the foundation of the language of critique. They provide the structure to analyze a composition which is critical in learning how to evaluate your own work so that you can correct and make your own compositions more dynamic. Ample amount of class time is devoted to developing your vocabulary in discussing and analyzing compositions. Most class work will be done in a limited palette of black and white, but work out of class may be done in color. That will give us an opportunity to address color concepts throughout the 10 weeks and color will be a focus in one of the sessions. During class critiques you get feedback on your work while practicing your new visual vocabulary.

Enjoy a dynamic learning environment that includes…
An opportunity to use this language in discussing other artists' work
Diagnosing your own compositions.
Learn how to incorporate the fundamentals of design in abstract works that have impact and connect with your viewer.
Small group feedback and brainstorming sessions
Exploring the concepts and applying them confidently in your work.
Compelling compositions are the intersection of design fundamentals, art history and the language of critique.
Learn the essential tools for every artist.

FAQ's
Q: Do I need to work in a specific medium?
A: No. In class we will focus on 2D materials, but the concepts apply to any medium and 2D or 3D work.
Q: How do I access the live sessions?
A: All live sessions are held on Zoom. Once you purchase the class, you will have access to the welcome section of the course content. There you will find the supply list and the links to the class meetings. The live sessions will be recorded and uploaded to the curriculum for replay. The best part is you don't have to worry about frantically taking notes but can focus on the live sessions and watch the replay to capture the key points you want to take notes on. Or if you have to miss a class, you can catch up by watching the replay.
Q: Who is this class for?
A: This course is beneficial for artists at any stage in their creative journeys. Whether you explored 2D design fundamentals previously or our new to them, you will find ways to deepen, expand, and explore these concepts in ways that will transform your art practice.
Q: What if I don't normally do abstract or non-representational work? Is this class still for me?
A: Yes! The concepts we cover apply to all types of compositions.
Q: What will we do during the live sessions?
A: Presentations on elements, principles, historical and contemporary artists: prompts and exercises; small group discussions; and critique.
Q: Will we be making artwork during this class or just doing exercises?
A: Each week you will have exercises that help you explore the week's concepts and terms. You will be creating a design elements journal with specific exercises that will be your studio reference guide. You will also be working on small individual pieces that we will discuss during our live sessions. In these pieces we will encourage you to incorporate the design elements we have discussed by how you execute your compositions is up to you.
Q: I have more questions. How do I reach you?
A: Email us at [email protected].